If you haven't heard about the Keto diet then you have been living under a rock. The Ketogenic diet forces the body to burn fats instead of carbohydrates. This means that many people use this diet to help them lose weight. However, it can sometimes be difficult to follow a new diet when the recipes are hard to follow. These easy keto recipes will make it very easy for you to lose weight even if you're new to the Keto diet. 
This post contains affiliate links
What is the Ketogenic diet?
The keto diet is a very low-carb and higher-fat diet which allows you to shed weight quickly. When you decrease your carbohydrate intake and increase your fat intake, your body goes into a metabolic state called ketosis. In this state, the body burns fats instead of carbs for energy. On a ketogenic diet, your entire body switches its fuel supply to run mostly on fat, burning fat 24-7. When insulin levels become very low, fat burning can increase dramatically. It becomes easier to access your fat stores to burn them off. This is why the ketogenic diet is perfect to help you lose weight. Hopefully, these easy keto recipes will help you achieve the perfect keto diet.
Easy Keto Recipes
1. Keto Pancakes
Ingredients:
50 g 

almond flour

115 g 

cream cheese, softened

4 

large eggs

1 tsp 

lemon zest
Butter, for frying and serving
Directions:
In a medium bowl, whisk together almond flour, cream cheese, eggs, and lemon zest until smooth.
In a nonstick pan over medium heat, melt 1 tablespoon butter. Pour in about 3 tablespoons batter and cook until golden, 2 minutes. Flip and cook 2 minutes more. Transfer to a plate and continue with the rest of the batter.
Serve topped with butter.
2. Keto BLT Salad
Dressing Ingredients 
1/4

cup

mayonnaise

2

tsp.

lemon juice

2

tsp.

apple cider vinegar (or water)

4

drops

pure liquid stevia (or to taste)
Salad Ingredients 
2

cup

chopped romaine lettuce

1/4

lb.

good quality cooked bacon, no sugar added


1/2

medium

tomato, chopped
Directions
Whisk together all dressing ingredients in a small to medium mixing bowl

In a larger bowl, combine all your salad ingredients.

Mix together and enjoy!
I think you might like this post: 1o Delicious Keto Breakfast Ideas That Will Help You Lose Weight
3. Keto Mexican Tacos
Ingredients
Directions
Preheat oven to 350 degrees F (175 degrees C). Line 2 baking sheets with parchment paper or a silicone mat.

Spread Cheddar cheese into four 6-inch circles, placed 2 inches apart.

Bake in the preheated oven until cheese melts and is lightly brown, 6 to 8 minutes.

Cool for 2 to 3 minutes before lifting with a spatula. Place over wooden spoon handle wrapped in aluminum foil balanced over 2 cups/cans. Let taco shells cool completely, about 10 minutes.

Cook beef in a skillet over medium-high heat until browned, stirring often to separate meat, about 7 minutes. Season with taco seasoning, salt, and pepper; cook for 1 minute more.

Divide beef mixture among cheese taco shells. Top with avocado, lettuce, Cheddar cheese, and tomatoes.
4. Keto Guacamole Chicken Bacon Burgers
Burger Ingredients
4

chicken breasts

4

slices of bacon

1/4

medium onion

2

cloves of garlic

4 Tablespoon

s (

60

ml) of avocado oil, to cook with
Guacamole Ingredients
1

large avocado, destoned and mashed

1

small tomato, diced

1/4

medium onion, diced

2 Tablespoon

s (

30

ml) of lime juice

2 Tablespoon

s of fresh cilantro, chopped
Directions
Food process the chicken, bacon, onion, and garlic and form patties.  You might need to do this in batches.
Fry the patties in the avocado oil in batches.  Make sure the burgers are fully cooked.
Make the guacamole by mixing together the avocado, tomato, onion, lime juice, and cilantro.
Serve the burgers with the guacamole.
5. Keto Lamp Chops With Herb Butter
Ingredients
4 medium-sized lamb shoulder chops (about 2 lbs)
1 tsp dried rosemary
2 tbsp butter
1 tsp dried parsley
4 cloves of garlic minced
1 tsp salt
1 tsp pepper
Directions 
Wash the lamb chops under cold running water and pat dry with some paper towel.
Mix together all the dry ingredients (rosemary, parsley, salt, pepper) and the minced garlic and rub the chops with the seasoning.
If you have the time, marinate for 30 minutes up to 24 hours (I usually marinate them overnight for more intense flavor) If you are short on time don't worry about the marinating time, just a few minutes is fine too.
Heat a skillet over medium heat and once it's hot enough, melt the butter on the skillet and add on the chops.
Don't overcrowd the skillet, if you only have a small skillet, do 2 batches of frying.
Fry the chops for 4-5 minutes on each side until nice and browned.
Serve with some fresh salad, veggies or with cauliflower rice.
6. Keto Chicken and Feta Cheese Plate
Ingredients 
1 lb rotisserie chickens
7 oz. feta cheese
2 tomatoes
2 oz. lettuce
10 black olives
1⁄3 cup olive oil
salt and pepper
Directions
Slice the tomatoes and put them on a plate together with chicken, feta cheese, lettuce, and olives.
Season with salt and pepper to taste. Serve with olive oil.
Makes 2 servings.
7. Taco Stuffed Avocados
Ingredients
1

pound ground beef

1 tablespoon

Chili Powder

½ teaspoon

Salt

¾ teaspoon

Cumin

½ teaspoon

Dried Oregano

¼ teaspoon

Garlic Powder

¼ teaspoon

Onion Powder

4 ounce

s tomato sauce

3

avocados halved

1 cup

shredded cheddar cheese

¼ cup

cherry tomatoes sliced

¼ cup

lettuce shredded
Directions 
Add the ground beef to a medium-size saucepan. Cook over medium heat until browned.
Drain the grease and add the seasonings and the tomato sauce. Stir to combine. Cook for about 3-4 minutes.
Remove the pit from the halved avocados. Load the crater left from the pit with the taco meat. Top with cheese, tomatoes, lettuce, cilantro, and sour cream.
If you want to make a larger area in the avocado for the toppings, spoon out some of the avocados and set aside to make guacamole! Then fill with toppings.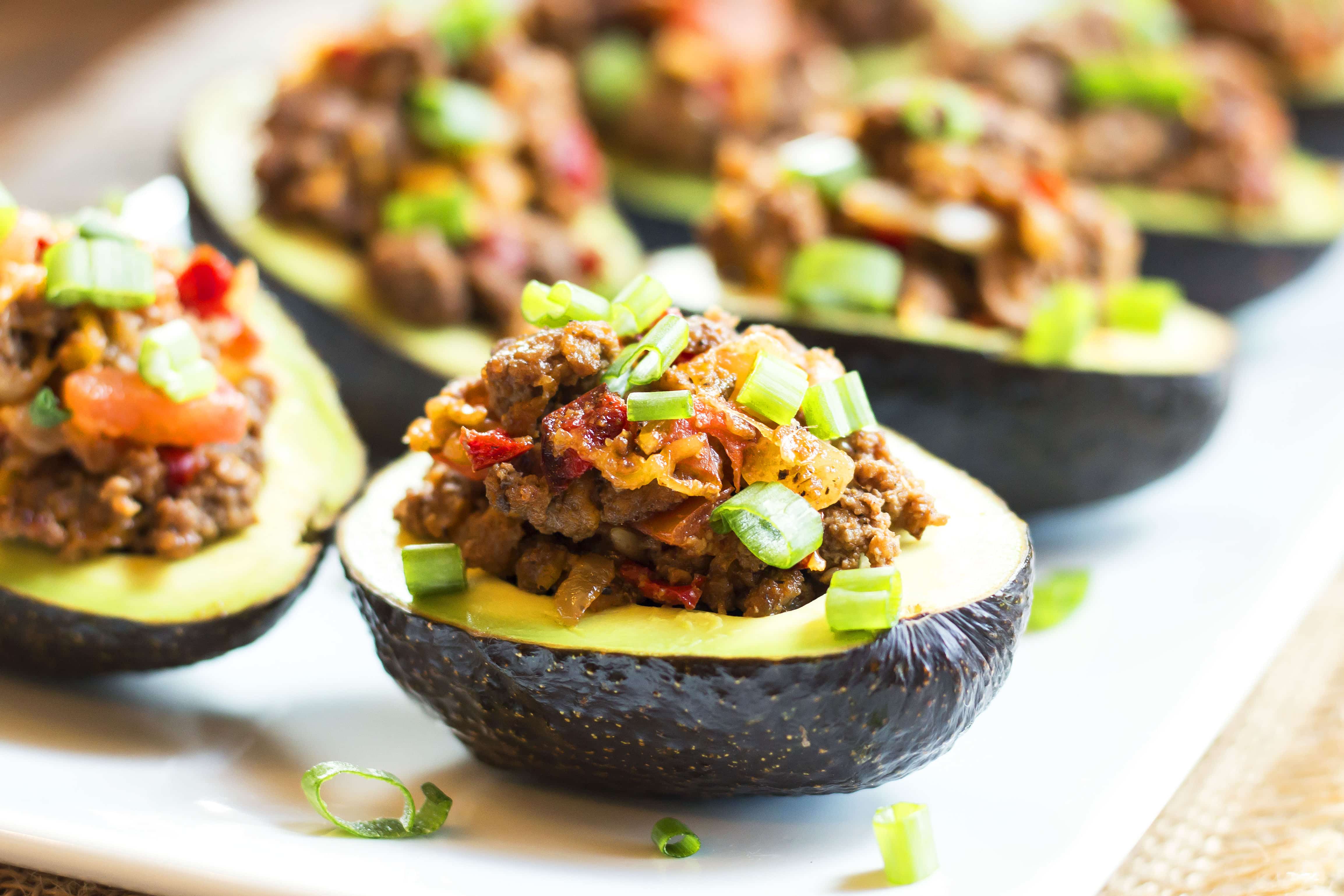 8. Asparagus Stuffed Chicken Parmesan
Ingredients
3

Chicken Breasts

1 teaspoon

Garlic paste

12

stalks Asparagus (stalks removed)

1/2 cup

Cream Cheese

1 tablespoon

Butter

1 teaspoon

Olive Oil

3/4 cup

Marinara Sauce

1 cup

shredded Mozzarella
Salt and Pepper to taste
Directions 
To start prepping the chicken, butterfly the chicken (or slice it in half without slicing it all the way through. The chicken breast should open out like a butterfly with one end still intact in the middle). Remove the hardy stalks of the asparagus and set aside.
Rub salt, pepper and garlic paste all over the chicken breasts (inside and outside). Divide cream cheese between the chicken breasts and spread it on the inside. Place four stalks of asparagus and then fold one side of the breast over the other, tucking it in place with a toothpick to make sure it doesn't come open.
Preheat the oven, and set it to the broiler. Add butter and olive oil to a hot skillet and place the chicken breasts in it. Cook the breasts on each side for 6-7 minutes (total time will be 14-15 minutes depending on the size of the breast) till the chicken is almost cooked through.
Top each breast with 1/4 cup marinara sauce, and divide the shredded mozzarella on top. Place in the oven and broil for 5 minutes till the cheese melts.
9. Low-Carb Cauliflower Mac and Cheese
Ingredients
1 cup heavy whipping cream
1 teaspoon onion powder
3 ounces cream cheese
1 cup cheddar cheese
1 large head of cauliflower steamed, rough chopped
1/2 cup mozzarella cheese
1/4 cup parmesan cheese
salt and pepper to taste
1 teaspoon garlic powder
Crispy Bacon to garnish
Directions
Preheat oven to 375ºF and coat an 8×8 baking dish with butter or non-stick spray.
Cut cauliflower into small 1/2″ to 1″ pieces. Steam for 4-5 minutes until barely tender. Remove from heat and drain well. Pat dry with paper towels. Set aside.
In a small pot, combine heavy cream, cheeses, cream cheese, salt, pepper, and paprika. Heat under medium fire until smooth. Stir well.
Add cauliflower to cheese mixture and toss to coat.
Pour into a baking dish and bake for 25-30 minutes until the top is golden brown and bubbly.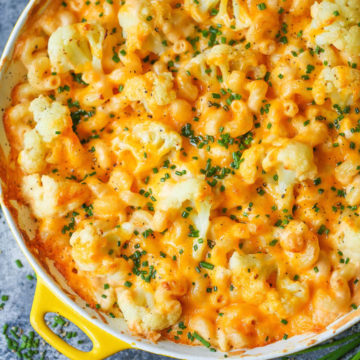 10. Garlic Herb Grilled Chicken
Herb butter
6 oz.

butter, at room temperature

1

garlic clove, minced

½ tsp

garlic powder

¼ cup

fresh parsley, finely chopped

1 tsp

lemon juice

½ tsp

salt
Fried chicken
3 tbsp

butter or olive oil

4

chicken breasts

salt and pepper
Serving
8 oz.

leafy greens, for example, baby spinach
Directions
Start with the herb butter. Mix all ingredients thoroughly in a small bowl and let sit until it's time to serve.

In a large frying pan, over medium heat, melt the butter. Season the chicken with salt and pepper. Fry in butter until the fillets are cooked through, and register 165°F (75°C) with a meat thermometer. Lower the temperature towards the end to avoid dry chicken filets.

Serve the chicken on a bed of leafy greens and place a generous amount of herb butter on top.
If these easy Keto recipes don't seem like something you would ever eat, maybe you should try something that will create custom meals that will suit your taste better. Tasteaholics is a Keto diet website that will create a totally unique Keto meal plan just for you. With the Total Keto Diet app's meal plans, you get 100% customized low carb meal plans, tailored to YOUR needs and preferences. This means you don't need to spend another second agonizing over your keto diet and looking for easy keto recipes – and start burning off pounds of fat (or building muscle).
You can get:
tailored calories and macros
easy & delicious keto recipes
dynamic shopping lists
easy PDF export
avoid specific allergens
Normally Tasteaholics price it at $14.99 but for this month, they have priced it at $9.99 a month and right now they are running a deal so you can get a 7-day free trial if you can't decide whether or not you try them out.
Click here to get Total Keto Diet app's custom meal plans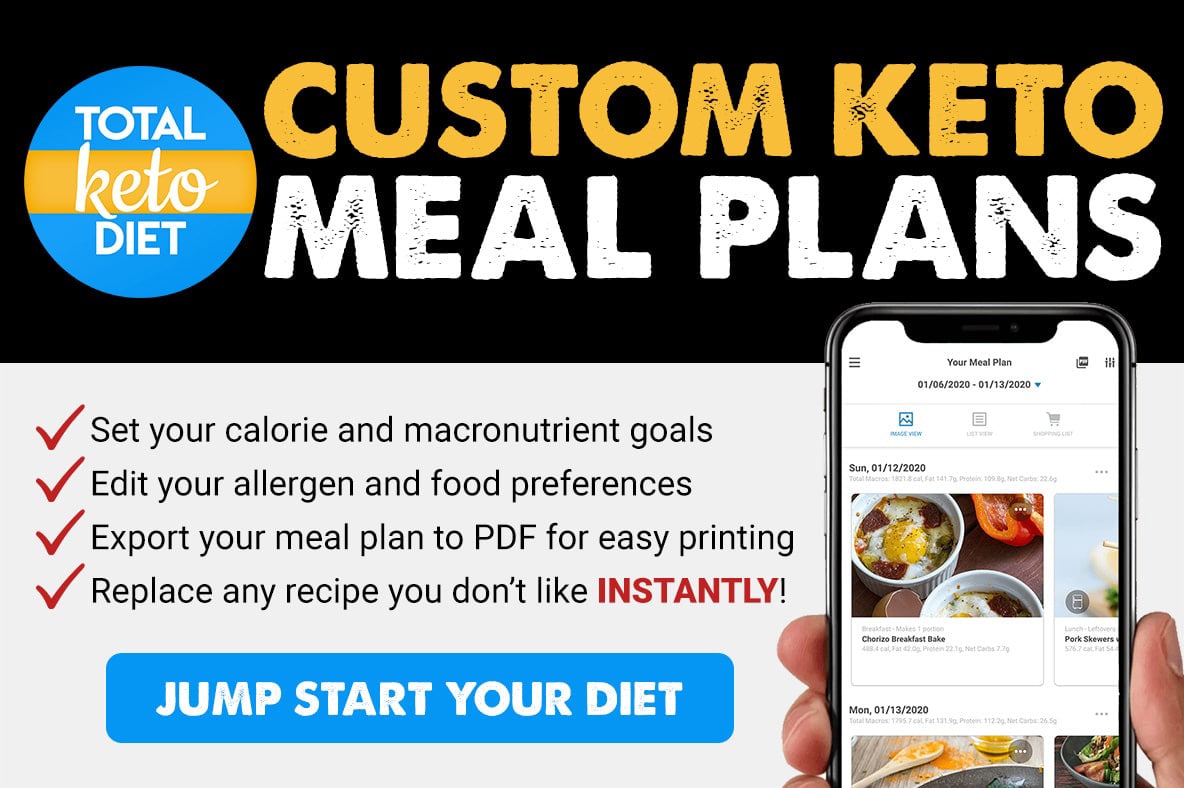 That's all for today. Thank you for reading. I hope you will be able to make some easy keto recipes quickly and without any trouble. Make sure to check out the Tasteaholics personalized keto meal plans.

Read my other posts:
Share, Comment and Subscribe these easy keto recipes.