Wrinkles are something that we live with from a certain time in our life. This is true. When wrinkles come we can not get rid of them. This is false. There are many ways to prevent wrinkles and get rid of them. It really is not a secret anymore but some people still don't know it is an option. I will also introduce you to a product that many people swear by (keep reading for more). Hopefully, you will learn how to get rid of forehead wrinkles without Botox and feel a little bit at ease with your skin. This is the first post in my Beauty Secrets series.
What causes wrinkles?
The Sun
The sun is one of the main causes of wrinkles. Exposure to powerful sun UVA and UVB radiation can lead to a golden brown tan, but it can also result in severe damage to your skin that results in the early development of lines and wrinkles on the face. The best way to stop this is to wear sun cream, you should also wear it when there is no sun. This is because harmful ultraviolet radiation can still get through clouds.
Dry Skin
If you are not moisturizing, cleaning, and nourishing your skin on a day-to-day basis, you could be more vulnerable to facial wrinkles. Having dry skin can aid in wrinkles because of how tight your skin can get. The lesson is to moisturise!
Check out my post: 5 Amazing Moisturizers for Dry Skin
Unhealthy Diet
Vitamin C is very important for your skin and this can be obtained from a healthy diet. Many researchers have found that higher intakes of vitamin C and linolenic acid (an omega-3 fatty acid) reduced the risk of dry skin in American middle-aged women. This means that your diet is part of the ageing process of your skin.
Check out my post: 5 Amazing and Clever Types of Diet Meal Plans
Smoking
Smoking is terrible for your health and it also is bad for your skin. The chemicals in tobacco smoke reduce collagen production and damage the skin's elasticity, which leads to premature ageing and wrinkles.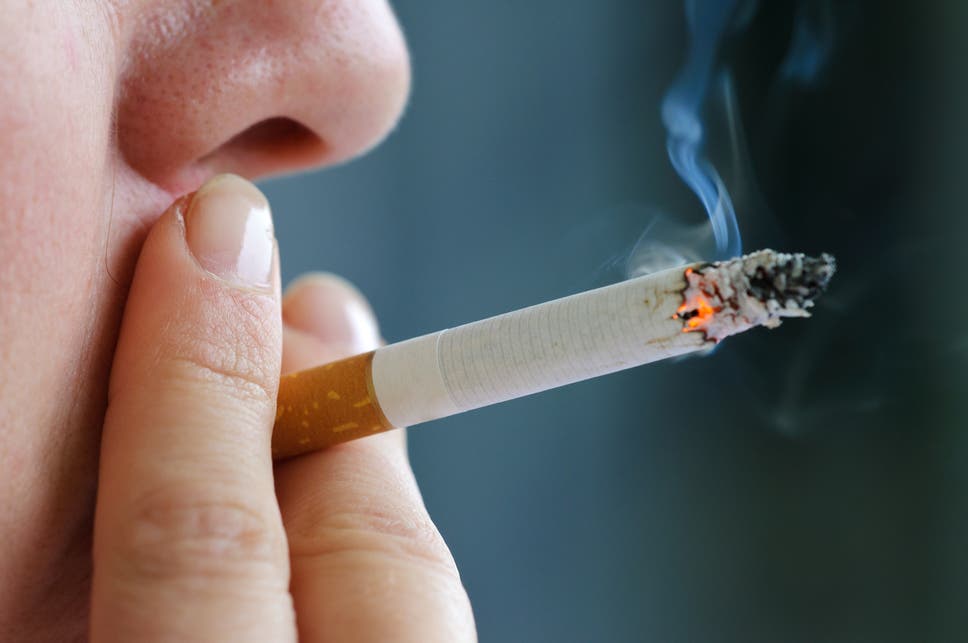 How to get rid of forehead wrinkles:
Coconut oil
Coconut oil is my favourite treatment for fine lines and wrinkles. It contains Vitamin E, essential amino acids, and lauric and caprylic acid which form part of the barrier function of your skin and help maintain your skin's natural flora. It also contains lots of antioxidants which helps protect your skin from damage caused by free radicals.
How to use coconut oil for wrinkles:
1. The first step to using coconut oil to get rid of fine lines and wrinkles is to thoroughly wash your face with cold water
2. If you're wearing any makeup, make sure to remove it first using a good make-up remover otherwise this treatment won't work well.
3. Wash your hands with soap before handling the coconut oil.
4. Lastly, gently massage the coconut oil over your face, making small clockwise movements over the wrinkles.
5. Allow your skin to absorb all the goodness of the oil overnight, and wash your face thoroughly in the morning to cleanse the skin.
Click here for more information: Coconut Oil For Wrinkles – Does It Work? 
Exfoliate 2x a week
You should get into the habit of exfoliating your skin to remove any dead skin cells. Dead skin cells are just the worse for your skin. They form a layer of skin and stop you from absorbing the moisture you need. This makes you a target of forehead wrinkles.  Scrub a gentle exfoliating cleanser onto your skin in circular movements with either your fingertips or a sponge, pay special attention to your forehead lines. Doing this on a daily basis should help.
Train your forehead muscles
You might have more difficulties with forehead wrinkles if you use your forehead muscles to open your eyes instead of relying on your eyelids. Performing a simple exercise to train these muscles may help reduce the creases in your forehead while also correcting droopy eyelids.
1. Curl your hands into "C" shapes and place them directly over your eyes. The index fingers should be positioned above each eyebrow, along with the upper bone of your eye cavity, and the thumbs should be placed on either side of the nose, just above the nostril.
2. Press the fingers of each hand downward and sideways, then open your chest and roll down your shoulder blades.
3. Open your eyes as wide as possible and hold the position for five seconds. During this time, press your index fingers into your eyebrows to prevent the brows and forehead from moving.
4. Squint the eyes five times, then close your eyes completely and relax for five seconds.
5. Repeat the entire process two more times, and repeat the exercise at least once daily until you notice results.
Click here for more information: How to Get Rid of Forehead Wrinkles
Aloe Vera
Aloe Vera gel is one of the most amazing natural products for reducing wrinkles. When digested, Aloe Vera helps rebuild collagen and it fights to prevent collagen breakdown in the first place. Collagen is the basic structural component of the skin. So if you want wrinkle-free skin you should look for a way to increase your collagen production. You can use it daily to moisturize your face and under eyes, and even loan it to your husband to use as a great after-shave lotion.
Using these products are great, however, the results you might be looking for may take up to 90 days. I am not sure about you but that seems like a long wait for me. So to help you guys out I found a product that will work faster, and have more added benefits.
Secret Key – SYN-AKE Anti Wrinkle & Whitening Cream
What is SYN-AKE?
SYN-AKE products are gaining popularity when it comes to eliminating the stubborn signs of ageing.  Syn-AKE is the name of a peptide that is also referred to as tripeptide-3 or dipeptide diaminobutyroyl benzylamide diacetate.
When we grow older, wrinkles, fine lines and dark spots, especially on the forehead increasingly appear. Many people start to find ways they can stop this process. Ultimately these products seem to be the answer.
How Does SYN-AKE Peptides Work?
SYN-AKE Peptides formulations work just like Botox agents. When they come into contact with the body, this cream mimics the action of this peptide. Various ingredients included in the formulation provide deep hydration to the skin repairing and reviving the aged skin. All this leads to smooth, youthful and nourished skin.
Secret Key – SYN-AKE Anti Wrinkle & Whitening Cream- Main Features:
Moisturized skin from maximum hydration
This product includes shea butter, panthenol and aloe vera which provides moisture for dehydrated, dry skin. This is essential for getting rid of wrinkles.
After using this cream, the result is firmer, younger, and more radiant-looking skin with less visible fine lines and improved elasticity.
Whitening and wrinkle improvement
Many people see a difference in their wrinkles and a reduced amount of fine lines in less than a week. They also notice that their skin looks a little bit brighter as well.
SYN-AKE Peptides Ingredients – Are they Safe & Effective?
SYN-AKE Peptides are made from all natural and safe ingredients besides peptides. This makes the product extra safe for your skin.  But it cannot be used by pregnant and lactating mothers. Among the ingredients used include:
QuSome
Biofil hydrosphere
Reviews
I bought it for my mom (she is in early 50s) and she is very satisfied. It lasted her for about a month (she used it every day), she said it made her skin softer and that she noticed it did affect her wrinkles a bit. We are white so neither I or her have noticed any whitening effect so I can't talk about it. But overall she said she is very satisfied and that she will buy it again for sure, both cream and other products.                                                                           -5 stars
This product is great at moisturizing. I noticed a lot less fine lines and my skin felt more elastic just after 1               -5 stars
I bought this for my mom and it has been almost a month since she started using it. I can notice fewer lines and black spots. She has also received compliments from other people. I might buy it again for me! Really good product!                                                                                                                                                                                               -5 stars
I bought this for my aunt and she fell in love with it!! She had light pigmentation from the sun and after using it for some time, they really faded! This is also very moisturizing, perfect for dry skin!                                                       -5 stars
Click here to buy: Secret Key – SYN-AKE Anti Wrinkle & Whitening Cream
That's all I have today. I hope you learned how to get rid of forehead wrinkles  today. In this day and age, there is most likely an option for something. Comment below which tip you think will help you the most. Remember this is the first post in my Beauty Secrets and there will be more posts to come. I hope you have a good day!
Check out my other posts:
Comment Share and Subscribe
Until next time