If you are interested in skin care, you probably know how important it is to find products that are miracle workers. Bio-oil is just that. I have seen so many posts on Instagram and Pinterest that show me how many people are in love with Bio-oil. This oil is a must in so many peoples routine, including mine, and without it, some people would not have been able to achieve the skin they love today. This Bio-oil for face review will help you know whether Bio-oil is for you.
This oil has won many awards including; Best Face Oil, Cosmo Beauty Awards, Philippines, 2018; No. 1 Multi Oil, Women's Life, South Korea, 2016 and Editor's Pick for Best Facial Oil, Her Beauty Awards, Malaysia, 2018. Here is my Bio-oil review. Enjoy!
Bio-Oil For Face Review
What is Bio-oil?
Bio–Oil is a specialist skincare product formulated to help improve the appearance of scars, stretch marks and uneven skin tone. This product contains the breakthrough ingredient PurCellin Oil, this is highly effective for ageing and dry skin.
Why did I buy it?
I found out about Bio-oil through a friend who was using it to help clear up her skin. She has the same conditions as me which are eczema, sensitive and dry skin.
So I thought this product might be what I need to help my skin. At the time, I was struggling with having an uneven skin tone, pimples on my forehead and extremely dry skin. By buying Bio-oil, I hoped it would help improve my skin and make it as clear as possible.
Click here to buy the product that helped to clear my skin
Main Features:
Scars:
Scars are an important part of the healing process and due to its nature, they most likely will leave marks. Bio-Oil is formulated to help improve the appearance of scars, but the company have admitted that it can never remove them.
Many people have said that they have seen a difference in their scars appearance and that the scar will fade very nicely in time. Bio-Oil should be massaged in a circular motion into the scar, twice daily, for a minimum of 3 months. On new scars, Bio-Oil should be applied only once the wound has healed, and should not be used on broken skin.
Uneven Skin Tone:
Uneven skin tone occurs when there is an inconsistent production of melanin by the body. This could be the product of external causes, such as excessive exposure to the sun or the use of poor quality skin lightening products; or internal causes, such as hormonal fluctuations related to pregnancy, menopause or the use of oral contraceptives.
Bio-Oil
helps improve the appearance of uneven skin tone.
Many people have seen their skin tones even out and they feel like their skin is softer and dewier. Bio-Oil should be applied to the affected areas, twice daily, for a minimum of 3 months. Bio-Oil does not contain a sunscreen factor. If using a sunscreen apply once Bio-Oil has been fully absorbed.
Ageing Skin:
With ageing comes wrinkles and that is something not many people want. Wrinkles are caused by the weakening of the collagen and elastin support system in the skin. Bio-Oil contains numerous ingredients that help to plasticize the skin, making it softer, smoother and more supple, thereby reducing the appearance of wrinkled skin.
Bio-Oil also moisturises, which improves the texture, tone and appearance of fine lines and wrinkles. It should be applied to the affected areas twice daily.
Stretch Marks:
When the body expands faster than the covering skin, the skin tears, forming a scar as it heals. These scars are visible on the surface of the skin as stretch marks. Stretch marks are permanent in nature, and although Bio-Oil is formulated to help improve their appearance, it can never remove them.
Bio-Oil should be massaged in a circular motion into the stretch marks, twice daily, for a minimum of 3 months. During pregnancy, it should be applied from the start of the second trimester to areas that are prone to stretch marks such as the abdomen, breasts, lower back, hips, buttocks and thighs.
Dehydrated Skin:
The surface of the skin has an invisible oil layer which acts as a barrier to stop moisture from escaping. In a very dry climate, this lipid layer is often unable to cope and too much moisture is drawn out of the skin. Daily bathing or showering may exacerbate this by stripping away the lipid layer due to the astringent effects of soap and water.
Bio-Oil supplements the skin's natural oil layer, helping to restore its barrier function of retaining moisture.
Pros and Cons:
Pros
Very affordable
There is evidence that it works
1 bottle can last for months
Cons
Some people have reactions but it is hyperallergic
It is not a specialised product
Click here to buy the product that gets rid of scars, uneven skin tone, stretch marks, dry and ageing skin. 
Before and After Pictures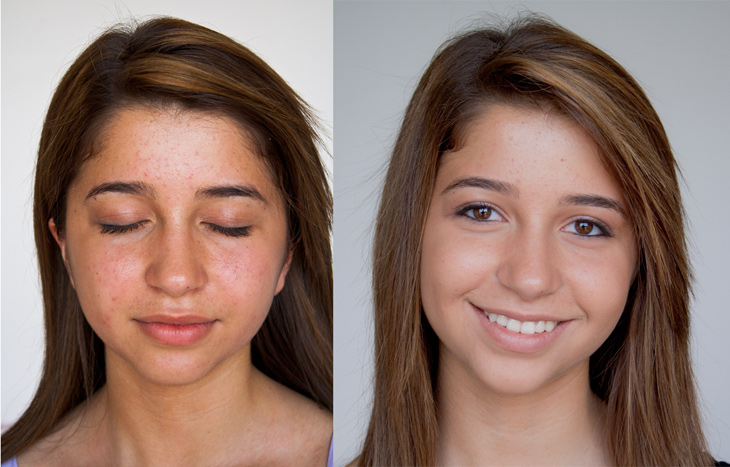 Who it is suitable for:
Bio-oil is for everyone and there isn't really an age group that it is for. This because of what Bio-oil wants to achieve for the user. If you have been struggling to clear your and just need one simple product, this is for you. Even as a simple moisturiser to add to your skincare routine. This means that anyone can use it because we all have scars, ageing skin, stretch marks etc.
If you have oily skin, you can still use it because Bio-oil is a 'dry oil' which means it is rapidly absorbing into the skin without leaving a greasy residue, so will not cause breakouts.
Bio-oil typically cost $8 to $25 depending on what you size you buy. I use the 2 fl. oz bottle because it's the cheapest and lasts me a couple of months. A little goes a long way really applies to Bio-oil.
How This Product Improved My Skin:
I use Bio-oil every day and I think this product works. I mainly used it because I had uneven tone and dehydrated skin. After 2 months or so, my skin tone evened out and my skin became really soft. An added plus is that it really helps my spots and gets rid of them within a few days. I have really sensitive skin(and eczema) and Bio-oil is one of the only products that don't hurt my skin.
If you are scared to try this product, don't be. It is honestly worth the try and you will probably love it. My bottle normally lasts me 4-6 months which is amazing. Even if it doesn't work for you, you can give it to someone else to try.
Click here to buy Bio-oil which got rid of my pimples and helped me achieve clear skin. Don't miss out. 
That is all for today. I hope this Bio-oil for face review was helpful and you give bio-oil a chance. If you enjoyed this review comment below products you would like me to review. 
Check out my other posts:
10 Korean Beauty Dupes from Yesstyle: Save Money in Style
The 10 Best Face Masks For Acne That Will Save Your Skin
10 Stylish Hairstyles For Natural Curly Hair That You Can Easily Do
5 Amazing and Affordable Moisturizers for Dry Skin
How To Get Rid of Forehead Wrinkles with Minimal Effort
The Best Essential Oils For Hair Growth
7 Cute Korean Outfits That You Must Have In Your Wardrobe
How To Become More Confident And Love Yourself Again
Comment, Share and Subscribe!
Until next time
Bio-oil For Face Review