People always say that "Breakfast is the most important meal of the day", and I believe this is true. Eating a balanced breakfast has many benefits that are great for your health and helps you lose weight. However, it can sometimes be hard to make breakfast when you don't know what to eat. These keto breakfast ideas will help you make very tasty breakfasts and help you lose weight too.
What is the Keto diet?
The keto diet is a very low-carb and higher-fat diet which allows you to shed weight quickly. When you decrease your carbohydrate intake and increase your fat intake, your body goes into a metabolic state called ketosis.
In this state, the body burns fats instead of carbs for energy. On a ketogenic diet, your entire body switches its fuel supply to run mostly on fat, burning fat 24-7. When insulin levels become very low, fat burning can increase dramatically. It becomes easier to access your fat stores to burn them off.
This is why the ketogenic diet is perfect to help you lose weight.
Benefits of a healthy breakfast
Improves metabolism
Improves your energy levels throughout the day
Eating a healthy breakfast can contribute to weight loss tips
It can help you feel less hungry throughout the day
The Best Keto Breakfast Recipes
If you are really ready to lose weight using the Keto diet, I think it would be very hard to keep searching the internet every single day.
Instead, I recommend buying a guide that is specifically just for Keto breakfast recipes. That is why Tasteaholics' Breakfast In 5 is perfect for you. It has all the keto breakfast ideas you need along with valuable information that will help you lose weight correctly on a keto diet. It's also super cheap! If you would like to know more information about this cookbook keep reading till the end.
Click here to lose weight fast using Breakfast In 5 ( It is also on sale so you can get 30% off)
10 Keto Breakfast Ideas
Ingredients
5 oz.

diced bacon or chorizo

2 tbsp

butter

8 oz.

fresh spinach

8

eggs

1 cup

heavy whipping cream

5 oz.

shredded cheese

salt and pepper
Instructions
Preheat the oven to 350°F (175°C). Grease a 9×9 baking dish or individual ramekins.

Fry the bacon in butter on medium heat until crispy. Add the spinach and stir until wilted. Remove the pan from the heat and set aside.

Whisk the eggs and cream together and pour into baking dish or in ramekins.

Add the bacon, spinach and cheese on top and place in the middle of the oven. Bake for 25–30 minutes or until set in the middle and golden brown on top.
Ingredients:
3 oz. halloumi cheese, diced
4 oz. bacon, diced
2 tbsp olive oil
2 scallions
4 eggs
½ cup fresh parsley, chopped
½ cup pitted olives
salt and pepper
Instructions:
Firstly, you will need to dice halloumi cheese and bacon.
Then heat the olive oil on medium high in a frying pan and fry halloumi, scallions and bacon until they are nicely browned.
Next in a small bowl, whisk together parsley, eggs, salt and pepper.
Pour the egg mixture into the frying pan over the bacon and cheese. Lower the heat, add the olives, and stir for a couple of minutes.
Serve with or without a salad.
Makes 2 servings.
Ingredients:
2 bell peppers, halved (seeds removed)
8 eggs, lightly beaten
¼ c. milk
4 slices bacon, cooked and crumbles
1 c. shredded Cheddar
2 tbsp. finely chopped chives, plus more for garnish
kosher salt
Freshly cracked black pepper
Instructions :
Preheat your oven to 400°. Place the peppers in a large baking dish and bake 5 minutes.
Meanwhile, beat together eggs and milk. Stir in bacon, cheese and chives and season with salt and pepper.
When peppers are done baking, pour egg mixture into peppers. Place back in the oven and bake 35 to 40 minutes more, until eggs are set. Garnish with more chives and serve.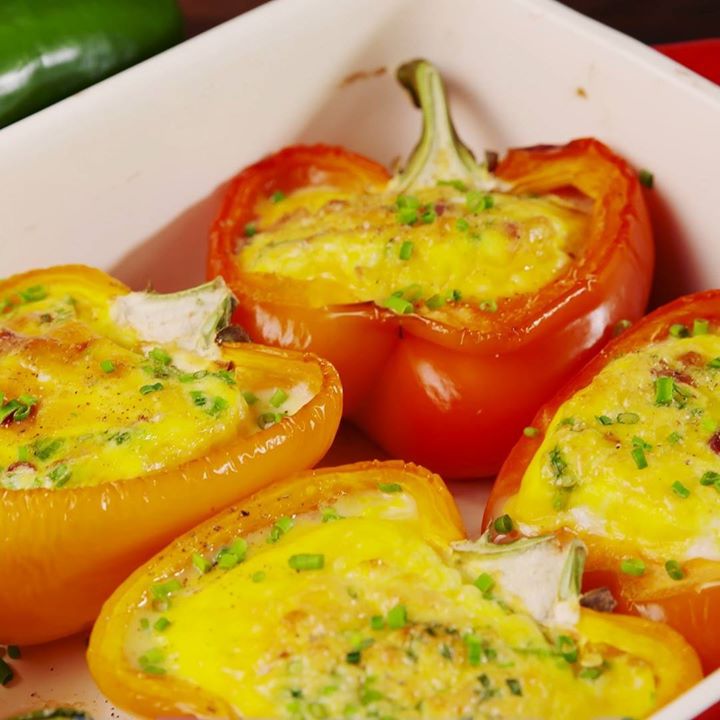 Ingredients:
50 g 

almond flour

115 g 

cream cheese, softened

4 

large eggs

1 tsp 

lemon zest
Butter, for frying and serving
Instructions :
In a medium bowl, whisk together almond flour, cream cheese, eggs, and lemon zest until smooth.
In a nonstick pan over medium heat, melt 1 tablespoon butter. Pour in about 3 tablespoons batter and cook until golden, 2 minutes. Flip and cook 2 minutes more. Transfer to a plate and continue with the rest of the batter.
Serve topped with butter.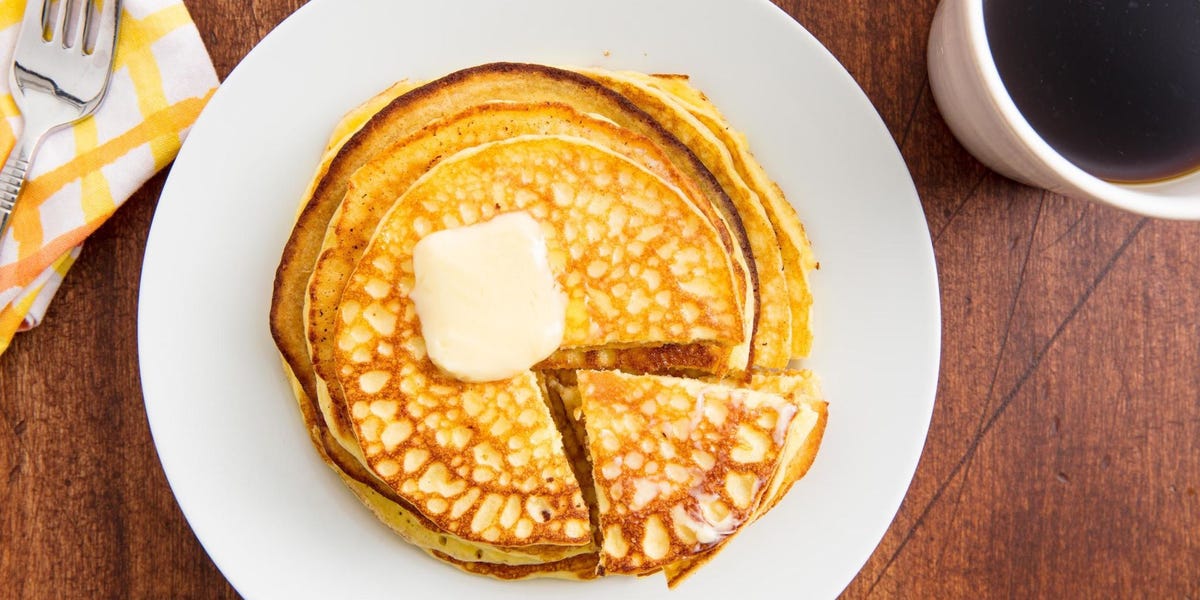 Ingredients
Biona Organic Black Beans in Water

2

can(s), drained, drained and rinsed
Sweetcorn, canned, drained

285

g
Avocado pear

150

g, peeled, stone removed and thinly sliced (150g prepared weight)
Tesco Vine Ripened Tomato Salsa

120

g, (4 tablespoons)
Calorie controlled cooking spray

4

spray(s)
Coriander, Dried ¾ teaspoons, level, ground
Ground Cumin ¾ teaspoons, level
Paprika ¾ teaspoons, level
Vinegar, All Types

2

teaspoons, red wine
Instructions
Use a food processor to whizz the cauliflower to a rice-like texture. If you don't have a food processor, you can grate the cauliflower using the coarse side of a cheese grater.
Mist a large nonstick frying pan with cooking spray and cook the cauliflower 'rice', stirring, over medium heat for 5 minutes until tender. Transfer the cauliflower to a large bowl, add the spices and ½ tablespoon of the olive oil, then season to taste and stir to combine.
Divide the spiced cauliflower between 4 bowls and top with the black beans, sweetcorn, and avocado.
In a small bowl, whisk the remaining oil with the vinegar, then season to taste. Drizzle the dressing over the burrito bowls and serve topped with the salsa
Ingredients
Half a ripe avocado
2 slices whole grain (or a type of your choice )toast
2-3 eggs (scrambled, poached or fried)
Streaky bacon
Instructions
Scramble, poach or fry an egg and
Place over mashed avocado on toast.
Top with streaky bacon pieces of juicy cooked bacon
Ingredients
6 

large eggs

2 tbsp 

double cream
Pinch chilli flakes
Salt
Freshly ground black pepper

1 tbsp 

butter

3 

slices cheddar

6 

frozen sausage patties, heated according to package instructions
Avocado, sliced
Instructions
In a small bowl beat eggs, double cream, and chili flakes together. Season generously with salt and pepper.
In a nonstick pan over medium heat, melt butter. Pour about ⅓ of the eggs into the pan. Place a slice of cheese in the middle and let sit about 1 minute.
Fold the sides of the egg into the middle, covering the cheese. Remove from pan and repeat with remaining eggs.
Serve eggs between two sausage patties with avocado.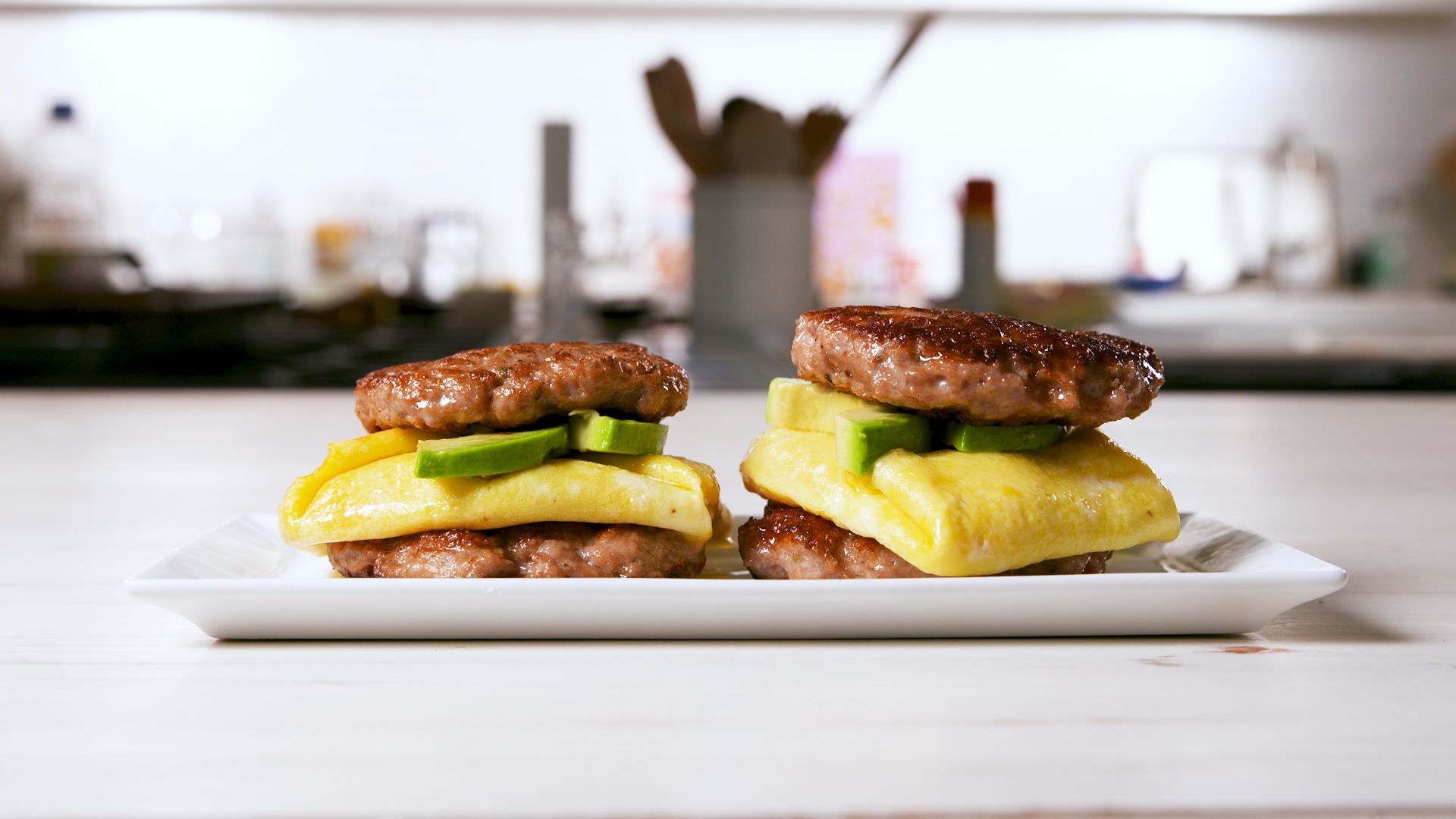 Ingredients
64

g

almond flour

28

g

coconut flour

1

tablespoon

psyllium husk

ground

1

teaspoon

xanthan gum

240

ml

water

57

g

grass-fed butter

or coconut oil

3

tablespoons 

erythritol

or xylitol*

1/4

teaspoon

kosher salt

3

eggs

lightly beaten **

1

teaspoon

vanilla extract

1 1/2

teaspoon

baking powder
Instructions
Whisk together in a medium bowl almond flour, coconut flour, psyllium husk and xanthan gum. Set aside.

Heat up water, butter, sweetener, and salt in a medium pot (or Dutch oven) until it just begins to simmer. Lower heat to low and add in flour mixture, mixing constantly to incorporate. Continue to cook and stir until the dough pulls away from the pan and forms into a ball, 1-3 minutes.

Transfer dough back to the bowl and allow to cool for 5 minutes. The dough should still be warm, but not hot enough to scramble the eggs.

Add in one egg at a time, mixing with an electric mixer until fully incorporated. Mix in vanilla extract and baking powder. The final dough should be very elastic.

Allow the dough to rest for 10 minutes and heat up waffle iron on high in the meantime.

Grease waffle iron well and spoon in the batter. It will be thick, so spread it out using a wet spatula (or wet the back of a spoon). Close waffle iron and cook for 8-12 minutes on high until fully golden and cooked through.

To crisp up the waffles further (this largely depends on your waffle iron), you'll need to toast the pieces on low in your toaster or in a skillet over low heat. This will draw out the moisture from the coconut flour and give you nice and crisp edges.

The waffles can be stored in an airtight container at room temp for 3 days. And the dough can be kept in the fridge for a day or two.

 
Ingredients
1 avocado
2 eggs
1½ tbsp rice wine vinegar
1 tsp sesame oil
½ tsp honey
1½ tbsp chopped dill
1/2 cucumber
50g (1 3/4oz) smoked salmon
Instructions
Preheat the oven to gas 7, 220°C, fan 200°C. Halve the avocado, remove the stone and spoon out some of the flesh to make a bigger hole for the egg to sit in. Put the halves in an ovenproof dish, cut side up, and crack an egg into each half. Bake for 15 minutes until set*.
Meanwhile, mix together the rice wine vinegar, sesame oil, honey and 1 tbsp of the dill. Using a veg peeler, slice the cucumber into thin strips. Add to the dressing and mix well.
Divide the smoked salmon between 2 plates. Put a baked avocado half on each plate and sprinkle with the remaining dill. Season with freshly ground black pepper and serve with the cucumber salad.
Ingredients
3

large

Egg

(whites and yolks separated)

3

oz

Cream Cheese

1/8

tsp

Cream of tartar

or Baking Powder

1/8

tsp

Sea salt
Instructions
Preheat the oven to 300 degrees F (149 degrees C). Line a baking sheet with parchment paper and grease lightly.
In a large bowl, use an electric mixer to beat the egg whites and cream of tartar until stiff peaks form.
In a second large bowl, use the mixer to beat the mascarpone, egg yolks, and sea salt until smooth.
Carefully and gradually fold the egg whites into the mascarpone mixture with a spatula. Use a folding motion to incorporate, without breaking down the air bubbles in the egg whites.
Scoop the mixture into six circular discs onto the parchment paper. Bake

25-35 minutes

, until golden.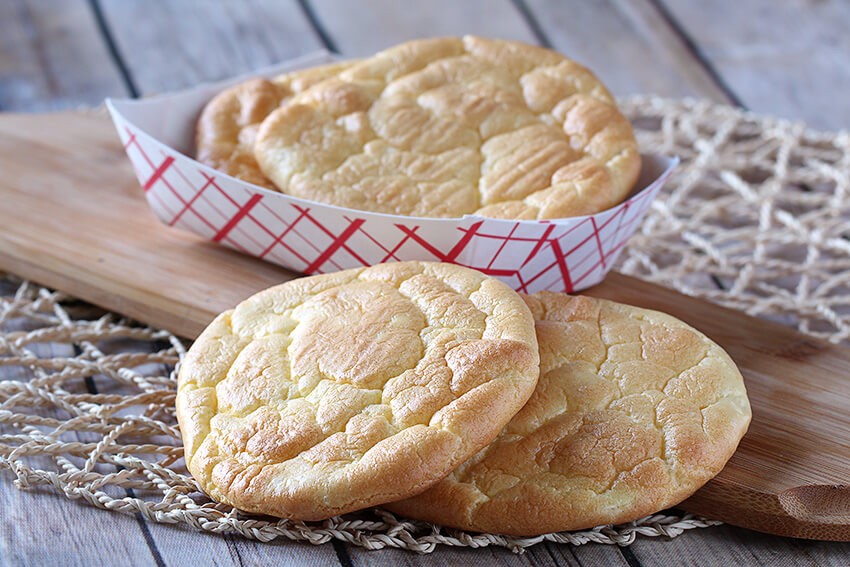 The Best Keto Breakfast Ideas – Breakfast In Five
As I said before, searching google every single day for recipes is not an easy or efficient way to help you lose weight. It will make the process longer and you might become unmotivated because of this reason.
That's why you should invest in a cookbook that has quick and easy recipes that can help you make healthy meals. This is why Breakfast In Five is perfect for you.
Breakfast In 5 is a keto recipes eCookbook that includes :
30 low carb breakfast recipes so you have a recipe for every single morning. That's amazing right!
Each recipe has only 5 recipes and 5 simple steps to follow
All the recipes have caloric and macronutrient data this means you can track everything you need easily.
It is an eCookbook so you can access it straight away on your phone, laptop, tablet, and computer.
And if you have any questions you can email them directly for personal support
I have personally brought and used the cookbook and it is one of the best decisions I have made. What I like the best is its simplicity that can help me create healthy meals and lose weight quickly too!
Plus, it doesn't just include recipes, it also gives great information about going keto, like keto flu and how to transit into the keto diet properly.
Some of the recipes include:
Blueberry Almond Pancakes
Chocolate Chip Waffles 
Breakfast Burritos 
On-The-Go Quiches
The best way for you to use this cookbook is to plan which recipes you want for breakfast and buy the ingredients in advance. Other than that there is no way these keto breakfast ideas can fail you.
If you're new to the keto diet, then you might have to go out and buy some new ingredients, however; if you are already doing the keto diet you won't have a problem.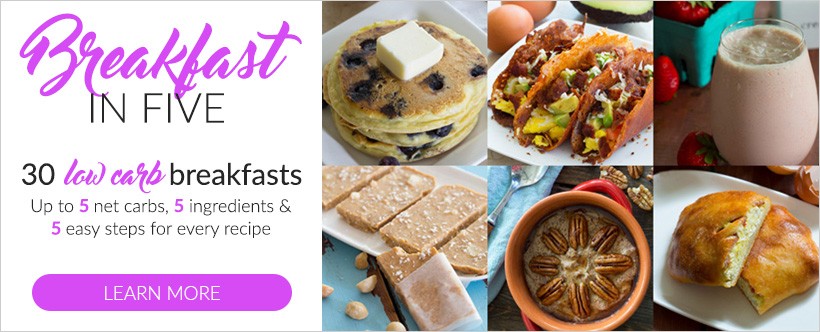 My Opinion
In my opinion, this book is worth the try. It makes my mornings so much easier and l don't have to worry about what recipe I should make. This book makes doing keto easier and less stressful which is absolutely amazing.
This eCookbook is for anyone who wants to do the keto diet lose weight easily without any trouble for a cheap price.
You should definitely check out the Breakfast In 5 eCookbook especially since it's on sale for a limited time only. This book is my go-to for keto breakfast ideas. Right now the price has gone down from $6.99 to $9.99. That's cheaper than a meal at a restaurant. If you check it out now, it still might be on sale.
Click here to get 30% off Breakfast In 5
That's all for today! I hope this post helped you find some tasty keto breakfast ideas to kickstart your morning. Remember to check out Breakfast In 5 if you're really serious about the keto diet. It's only $6.99 if you buy it now. Comment down below which recipe you are going to try.
Check out my other posts:
10 Easy Keto Recipes That Will Help You Lose Weight Easily
How To Lose Weight Fast With Exercise
10 Healthy Breakfast Recipes To Increase Your Fibre Intake
How To Create A Simple Healthy Eating Plan
How To Style Grunge Aesthetic Fashion